Read the candid confession of a top information technology expert about his work beginnings and the pitfalls of the Solution Architect profession. How did his passion for this field ignite and what is his biggest motivation for work, life, and sport?

Daniel Korčák preferred business to growing virtual trees during his doctoral studies. Where did life take him because of that?
Dan, you're regarded as an IT professional. How did you get into your Solution Architect profession? What field did you study?
I was already fascinated by computers in 1983, when I first saw Sinclair ZX81 at my friend's. Manic Miner, that was a hit! I graduated at CTU FEL with a major in Computer Graphics. But I had already preferred my career to my doctoral studies.
Where did Dan's journey lead to after his studies?
I started as a regular database developer for the internet provider Video On Line. Fate soon led me to a Solution Architect career, as this Telco company was growing rapidly and we had to connect SAP, voice services, invoicing and integrate many other systems and new services. Subsequently, I worked for several years as a consultant in Capgemini, where I had the opportunity to try out many different project roles, including a project manager, and importantly I moved from Telco business to Banking. In 2010, after becoming a freelancer – contractor, I gradually returned to the creative position of IT Solution Architect, which probably fulfills me the most.
KISS – Keep it Simple, Stupid is the motto, that I often think of as an architect.
What is behind your position title?
IT Solution Architect is something like a project girl for everything. Sometimes he has to be a mean designer guy, other times he tests, searches the error logs and subsequently often in an unknown / unpopular programming language. He often checks analysis and looks for where the analyst missed something. The least popular activity of an architect is then arguing with the suppliers of his designs, when his undoubtedly absolutely exact estimates meet the "greed" of those whose ideas are to be implemented.
Solution Architect and his role in the project
Of course, the primary activity should be architectural design, but typically, especially in larger corporations, you spend a lot more time fine-tuning and convincing the key people that the design makes sense and then looking for a compromise.
The key responsibility of an IT Solution Architect
I see as my main and key responsibility as an architect the whole delivery from start to finish. I have to consider my proposal from all aspects. Not to be too complicated, to be understood by analysts, developers and testers. To be manageable, sustainable and able to be further developed.
KISS – Keep it Simple, stupid is the motto, that I often think of as an architect. The design should also make sense in terms of costs and its return. Business case – the calculation of whether the final product pays off for the client, the cost return is often neglected in large corporations such as banks.
What inspires and motivates you at work and in life?
Among my motivators are probably mainly challenges, puzzles and morals – I don't like giving up. The challenge is to embark on a new project, learn a new technology or a method of architectural solution – pattern. Defect analysis, searching for errors in the solution and the source code are a puzzle, a challenge and at the same time it forces you not to give up until you find the problem.

I also like communication and social contact with other people, so I enjoy my role in this aspect too, even though I have to "play" a designer. In most of the areas I mentioned in the previous answer, you can find a great motivation for the work of an architect. 😉
It is not only work that makes a person alive
The inspiration for me is sport. This clears my head perfectly well, I meditate. I try to give it every free moment. In the winter I enjoy skate skiing and in the summer bike riding, running and swimming. Further I have to work out all year round due to my sore back. 🙂
What is your personal goal for the next 5 years?
I have a lot of different goals, small and big. The biggest personal goal for me at the moment is to be even more on duty and help others. I do not mean to say that I am not succeeding, but I still have certain reserves that can be worked on. 😉 The sports goal is then a triathlon, a half ironman, which had to be on hold for a few years due to the problems with my spine and knee, but I still hope that I will be able to do it in my fifties or slightly after.
Defect analysis, searching for errors in the solution and the source code are a puzzle, a challenge and at the same time it forces you not to give up until you find the problem.
Where did the road to TIP IT Solutions lead?
I have known the TIP IT founders for many years since I worked at CSOB z mého působení v ČSOB, I respect them personally and professionally, we are on a similar wavelength and we are friends. When my former employer started behaving strangely last year and demanded that his contractors sponsor the holes in his cash flow, TIP IT was a clear choice for me where to turn to. And I'm definitely much happier now and I don't regret the change. 😉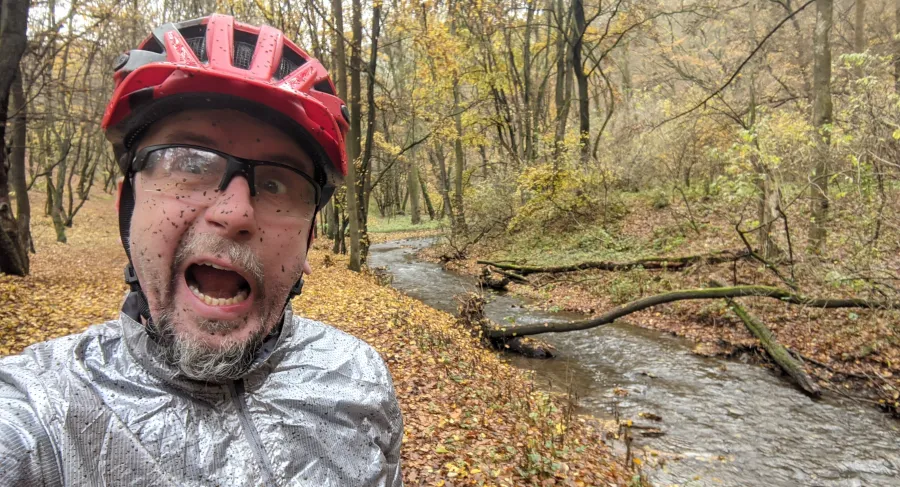 How do you evaluate the cooperation with TIP IT Solutions over time?
I have been with TIP IT for less than a year, but from the very beginning, in a team of great and experienced colleagues, I have felt at home. I had known most of them for many years when I had worked as a consultant in banks. I'm really looking forward to seeing them again at some informal company-wide meeting.
In which direction would you like to advance your professional career?
I would like to further deepen my abilities, knowledge and skills in the role of IT architect. Maybe I would like to try out the role of an enterprise architect over time, but at the same time I don't want to lose contact with development yet, so it probably won't happen. 🙂 Managerial, less creative and diverse roles in my career do not attract me.